For you who want to start RAW Development, want to adjust the photographs they have taken, or are considering SILKYPIX®, we offer the RAW Development software "SILKYPIX®" series at special prices!
Overview
Name

SILKYPIX® Let's Start RAW Development! Promotion

Period

February 18, 2021 to March 31, 2021 (JST)

Products

SILKYPIX® Developer Studio Pro10 Download Edition
SILKYPIX® Developer Studio 10 Download Edition

* We are limited to customers who bought the product license at ISL Online Store.
* This license can be registered to 3 different PCs/Macs which are owned by individual or corporate.

Details

SILKYPIX® Developer Studio Pro10 New license
- Regular price: 22000 JPY
→ Special price:

9900

JPY! (Tax Incl.)
* If you already have the SILKYPIX® Developer Studio series, please purchase at the upgrade price.
SILKYPIX® Developer Studio 10 New license
- Regular price: 13200 JPY
→ Special price:

5800

JPY! (Tax Incl.)
*The above price applies to purchase with new customers and upgrade customers.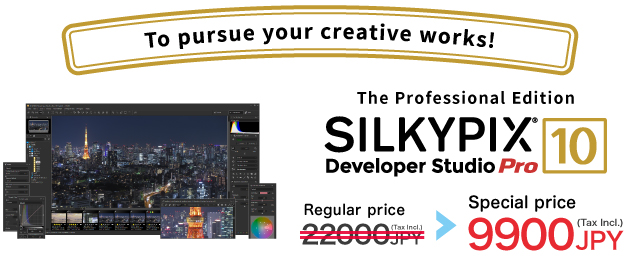 Professional Edition Limited Functions
The "Composite" function enables overwhelming high quality and new artistic expressions
The "Partial correction tool" allows you to freely adjust any area
The very useful "Dehaze" for landscape images etc.
Download 30 days Free Trial Now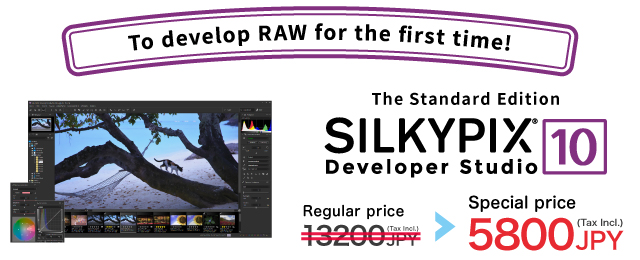 Convenient Functions even for Beginners
The 67 "Tastes" can be adjusted into images that look great just by selecting
"Auto adjustment" makes it easy to adjust Exposure and White Balance as well as Tone
The "Perspective correction tool" can intuitively correct distortion by lens etc.
* It is also equipped in the Professional Edition.
Download 30 days Free Trial Now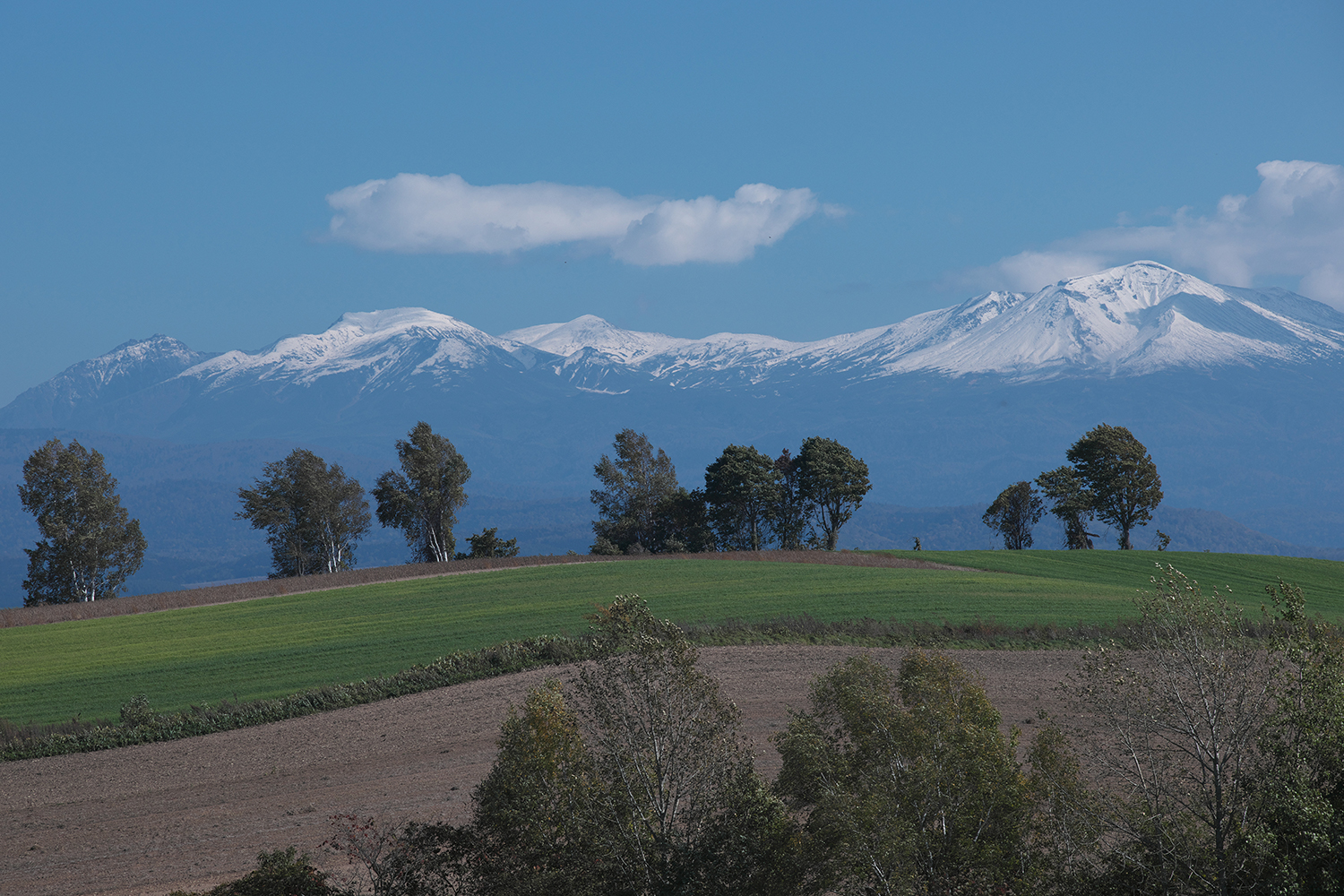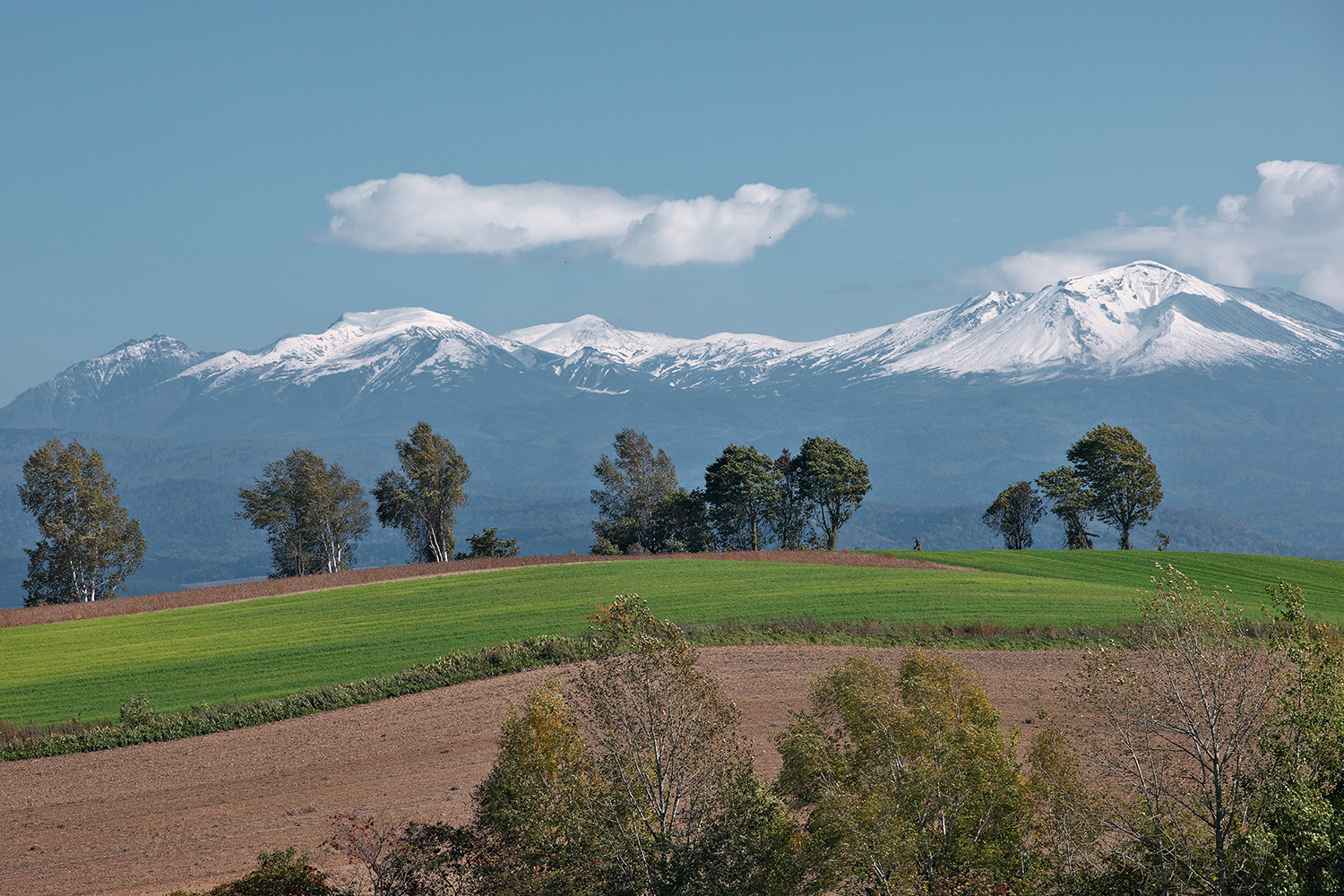 Please put a cursor on the image.
RAW has more data than JPEG, and it is possible to properly restore the colors of too bright or too dark areas that are difficult to restore with JPEG data, by adjusting after shooting.
SILKYPIX® is a RAW Development software that allows you to create high quality images from the RAW data. It has a lot of basic adjustment functions and correction functions that strongly support to create your works.
In addition to adjusting the brightness and White Balance of your images, you can also use functions such as naturally representing scenes with large differences in brightness and darkness, and a functions that allow you to adjust only certain colors, allowing you to make various adjustments.
Take this opportunity to enjoy the high quality adjustment of RAW development with the SILKYPIX®!
SILKYPIX® Series
The SILKYPIX® series is a series of RAW Development software produced in Japan that enables high-quality editing of RAW images taken with digital cameras to produce beautiful pictures. This product is compatible with the RAW images of camera manufacturers.
It is also supported by many professional photographers and photographers.
In addition, many camera manufacturers have also adopted the software packaged with cameras.
*As of February 18, 2021 (JST), the system is compatible with the RAW Development process for digital cameras of the over785 model.